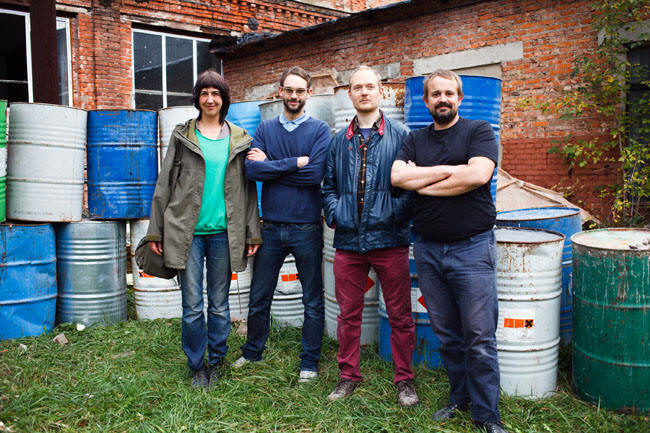 PLATTFORMER
c/o Tim Mitchell
Flat 7 Glenkerry House
98 Burcham Street
London E14 0SL
UK
The artist - architects collective Plattformer was founded by Carl Richardson, Tim Mitchell and Nina Scholz.
Plattformer aims to use the city as a place where workshops, play and intervention can become a catalyst for innovative ways to address our daily lives and challenge our habitual routines.
The Collective's work is set somewhere between urbanism, public art and social interaction. We often work in areas and places that are in transition. In our projects we strongly believe in hands on participation, enhancing communication and exchange between people of different cultural backgrounds, different ages and abilities. Our temporary and permanent installations and built structures in the public realm aim to provide opportunities for people to get together and actively use their local environment, by creating sites of dialogue, interaction and play.
As a not-for-profit organisation of artists, architects and designer makers we've been working together on projects in the public realm since 2004.
In previous projects we've worked with: The London Borough Councils of Hackney and Islington, London Fields Estate, Cornwallis Square Youth Centre, Mary Magdalene Academy, Breeze Landscape Architects, Remapp Landscape Architects St Lukes Primary School, Colvestone Primary School, Holy Trinity Primary School, The Building Exploratory, Tate Modern, Mlyn na Woli Partnership, University of Warsaw - Institute of Polish Culture, Stowarzyszenie Aktywności Społeczno-Artystycznej "Nie Po Drodze", Suwalski Klub Seniora, Fundacji Strefa WolnoSłowa, ROD Obrońców Pokoju, Berlin Senat(DE) and 'the general public'.
For Sonicpong we are collaborating with musician and sound artist James Dunn. For Pingponginthecity we've been collaborating with Bristol based designer maker Tim Greaves. Many thanks to Mark Chapman of Michael Barclay Partnership LLP for the advice on the structural engineering of the concrete tables.
PLATTFORMER CV
2019 Bespoke Flyer Dispenser for 'Steve MC Queen Year 3' Tate Britain
2019 V&A Lansbury Micro Museum - installation design 'For the Love of Things'
2018 Artsakh Fest, Stepanakert Artsakh (ECF STEP travel support)
2017 Display Bench Tate, London UK
2016 TDK (Tymczasowe Dom Kultury) Suwalki Poland
2016 Kolonien25 - Allotment 'exchange' between Warsaw Poland and Berlin Germany with support by Berlin Senat
2015 Way-Marking Mlynow, Warsaw Poland
2013 Sonic Plattforming, Spajalica/Copula, Rijeka Croatia
2012 Eco-Tectura Festival, Guslitsa Russia
2009 - 2011 Arundel Square, Islington London, in collaboration with Landscape Architects Remapp, commissioned by Green Space
2009 Sonic Plattforming, Interflugs Academy Berlin Germany
2009 Sonic-Pong-Radio, Urban Jealousy Belgrade Serbia
2008 PPITC Radnor Gardens, Islington London, in collaboration with Breeze Architects, commissioned by Green Space 2007
2007 PPITC Cornwallis Square, Islington London in collaboration with Janis Malcomson Architect and Green Space LBI
2005 PPITC (Pingponginthecity) London Fields, Hackney London, Commissioned by the Cultural Development Office & Hackney Play Association